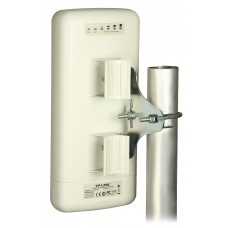 Kaina:
59.58€
Kaina be PVM: 49.24€
Prekės kodas:
TL-WA5210G
Ar turime:
Skambinti
0 atsiliepimai
Rašyti atsiliepimą
What This Product Does
The TL-WA5210G 2.4GHz High Power Wireless Outdoor CPE is dedicated to WISP CPE solution and long distance wireless network solutions. It integrates the functions of a Wireless Access Point, WISP Client, high gain antenna and weatherproof enclosure. It features 12dBi high gain antenna, high output power and high RX sensitivity can significantly extend the transmission range to deliver a more stable wireless connection. Complies with IEEE 802.11b/g, TL-WA5210G creates an wireless network up to 54Mbps, making it great for Internet surfing and files exchange.
Weatherproof Design, Durable Outdoor Solution
The TL-WA5210G is designed to work in harsh outdoor environment. Built with outdoor weatherproof enclosure and high durable of temperature (-30°C~70°C) hardware inside, the AP could work in some place with extreme bad weather conditions. Besides, the built-in 4000V lightning and 15KV ESD protection design would also help you to to prevent storm/lightning surges and ensures reliable operation.
High Power & Receive Sensitivity
Just like a high-volume speaker to make your sound (wireless signal) travel further, the device features high power for higher speeds at further range for long distance applications giving your network the flexibility to go further. Signal degradation when traveling long distances is mitigated using high RX sensitivity meaning that you can get higher speed at further distances, just like a high-sensitivity headset, allowing the AP to detect and receive the weakest signals. These two aspects working together, ensure the signals can go further and bring higher speeds at the same distance than normal ones.
Long Distance Outdoor, Break the limitation of WiFi
The TL-WA5210G features 12dBi dual-polarized antennas which is the key feature to build long distance WiFi connection. With software ACK timeout adjustable by setting the distance between two APs, it allows you to adjust the timeout value up to 15km for outdoor long distance operation, or even 52km with higher gain antenna support.
Multiple Applications, Available in Various Industries
Supports AP Client, Client Router, Bridge, Repeater, AP and Gateway operation modes to enable various wireless applications to give users a more dynamic and comprehensive experience when using their AP. Especially in AP Client Router Mode for WISP CPE, the AP will behave as a client of the Wireless Internet Service Provider (WISP). However, router functions are added between the wireless WAN side and the Ethernet LAN side. Therefore, the WISP subscriber can easily share the WISP connection with only a simple switch.
Passive PoE Supported for More Flexible Deployment
The TL-WA5210G is able to be powered using an Ethernet cable to simultaneously send data and electricity to wherever your AP may be located even up to 200 feet away. This feature multiplies your options allowing you to place the AP in a position that is most convenient to get the best signal possible, such as on the wall or on the ceiling of your office.


Features:


Complies with IEEE 802.11b/g, wireless speed up to 54Mbps
High output transmission power and reception sensitivity optimized
12dBi dual-polarized directional antennas fit for various environments and boost your signal level
Weatherproof enclosure and lightning protection terminal integrated
Supports WISP Mode
Up to 60 meters (200 feet) of flexible deployment with included Power over Ethernet Injector
Support 15kV ESD Protection
Support 4000V Lightning Protection
Supports AP Client Router, AP Router and AP operation mode
Distance Adjustment for long range transmission, up to 50km
Supports Antenna Alignment
Supports Layer 2 User Isolation
Provides throughput monitor indicating the current wireless throughput.
Supports Ping Watch Dog
Supports Wireless Speed Test
Supports SNMP, Remote Management
Provides WEP, WPA/WPA2, WPA-PSK/WPA2-PSK data security
Provides external RP-SMA connector for higher gain antenna upgrade
Specifikacija:
HARDWARE FEATURES
Interface
1 10/100Mbps Auto-Sensing RJ45 Port(Auto MDI/MDIX, PoE)
1 External Reverse SMA Connector One Grounding Terminal
Button
Reset Button
External Power Supply
12VDC / 1.0A Linear PSU
Wireless Standards
IEEE 802.11g, IEEE 802.11b
Antenna
12dBi Dual-Polarized Directional Antenna
Dimensions ( W x D x H )
10.4 × 4.7 × 3.2 in. (265x120x83mm)
Antenna Beamwidth
Horizontal: 60° Vertical: 30°
Protection
15kV ESD Protection,
4000V Lightning Protection
Grounding Terminal Integrated
WIRELESS FEATURES
Frequency
2.4-2.4835GHz
Signal Rate
11g: Up to 54Mbps(dynamic)
11b: Up to 11Mbps(dynamic)
EIRP
<20dBm (EIRP, For countries using CE Standards)
<27dBm (Peak Output Power, For countries using FCC Standards)
Reception Sensitivity
802.11g 54M: -76dBm 48M: -78dBm 36M: -82dBm 12M: -91dBm 9M:-92dBm 802.11b 11M:-90dBm 5.5M:-92dBm 1M:-98dBm
Wireless Modes
AP Router Mode AP Client Router Mode (WISP Client) AP/Client/WDS Bridge/Repeater mode
Wireless Functions
WDS Bridge, Wireless Statistics
Wireless Security
SSID Enable/Disable MAC Address Filter 64/128/152-bit WEP Encryption WPA/WPA2/WPA-PSK/WPA2-PSK (AES/TKIP) Encryption
Wireless Range
15km with Integrated Antenna 50km Maximum (High gain directional antenna required)
Advanced Functions
Up to 60 meters PoE is supported
Provides 4-level signal LED indicator
OTHERS
Certification
CE, FCC, RoHS
Package Contents
TL-WA5210G
Power Supply Unit
Power Injector
Resource CD
Quick Installation Guide
System Requirements
Microsoft Windows 98SE, NT, 2000, XP, Vista™ or Windows 7, MAC OS, NetWare, UNIX or Linux.
Environment
Operating Temperature: -30°C~70°C (-22℉~158℉)
Storage Temperature: -40℃~70℃ (-40℉~158℉)
Operating Humidity: 10%~90% non-condensing
Storage Humidity: 5%~95% non-condensing
Rašyti atsiliepimą
Pastaba:
HTML nesiverčia!