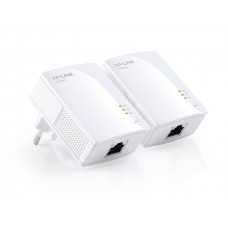 Kaina:
40.26€
Kaina be PVM: 40.26€
Prekės kodas:
TL-PA2010KIT
Ar turime:
Skambinti
0 atsiliepimai
Rašyti atsiliepimą
What This Product Does
TP-LINK's TL-PA2010KIT powerline adapters take advantage of your home's existing electrical wires to transfer data while simultaneously transferring traditional power. That means, with no additional wiring required, users can simply plug the TL-PA2010KIT into existing power sockets and instantly establish a networking infrastructure. With its miniature design, you'll enjoy the flexibility of plugging it anywhere in your home!
Miniature Design, Ultra-compact
With its new ultra-compact housing design, TL-PA2010KIT are much smaller than TP-LINK's legacy mini 200Mbps Powerline Products. At just 28.5mm thick and with its high quality, elegant white shell, they nearly blend completely in front of any power outlet.
Up to 200Mbps, 300 Meters
With advanced HomePlug AV technology, TL-PA2010KIT provide users with stable, high-speed data transfer rates of up to 200Mbps on a line length of up to 300 meters. Together with its built-in powerful AES encryption, the TL-PA2010KIT are a great choice for a whole home solution to connect all network compatible devices--from computers and game consoles to set-top boxes for IPTV to printers and NAS hard drives.
Reduces Power Consumption Up to 75%
The TL-PA2010KIT, a new-generation Powerline Adapter, with its practical design and sophisticated Power-Saving Mode consumes less power when compared with existing Powerline Adapters. When there is no data transmission or reception occurs over a certain period of time, it will automatically switch from its regular "Working" Mode to "Power-Saving" Mode that will reduce its energy consumption by up to 75%*. *Actual data will vary because of the network conditions and environmental factors
Pair Button for Easy Network Security
Simply by pushing the Pair button on the adapters, users can set up a hassle-free Powerline network within minutes, complete with 128-bit AES encryption for network security and data protection. It's that simple! 1. Plug the adapter into the power outlet 2. Connect the device via the network cable to the adapter 3. Press the encryption buttons—and you're done!
Rašyti atsiliepimą
Pastaba:
HTML nesiverčia!